Discbine® H7000 Side-pull Disc Mower-conditioner
The Definition Of Disc Mower-conditioners
Features
Fast, Smooth Cutting
You Can Rely On Genuine Discbine® H7000 Series Disc Mower-conditioners For Smooth, Trouble-free Mowing, Even In Tough Conditions.
The Shockpro™ Hub Advantage
Shockpro™ Disc Hubs Protect The Cutterbar By Absorbing Harmful Impacts And Can Be Changed Quickly So You're Back Making Hay Quickly.
Mowmax™ Disc Cutterbar 3-year Factory Warranty
The Reliability Of The Mowmax™ True Modular Disc Cutterbar Is Backed By Three Full Years Of Complete Warranty Coverage. It Includes One Full Year Of Base Factory Warranty, Plus Two Additional Years Of Disc Cutter Bar Coverage. It's Peace Of Mind Direct From The New Holland Factory, So Cut Close With Confidence.
Conditioning Choices
Choose The Best Conditioning System For Your Crops – Chevron Form Rubbers Rolls, Steel Rolls Or Advanced Leaningedge™ Flail Tines.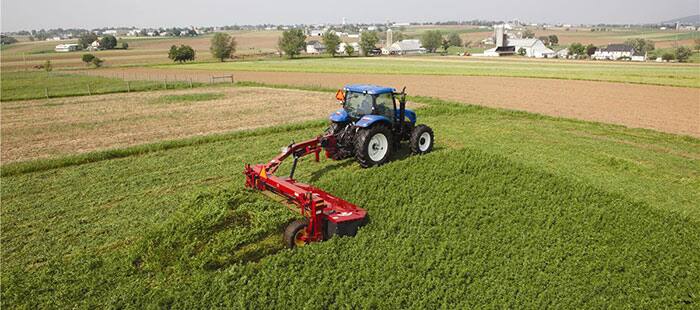 Clean, Reliable Mowmax™ Cutting
H7000 Side-pull Discbine® Disc Mower-conditioners Mow Cleanly And Smoothly Through Tough Conditions. The Classic And Reliable Mowmax Cutterbar Features The New Holland True Modular Design With Shockpro™ Disc Drive Hubs That Absorb Harmful Impacts To Protect The Cutterbar Drive From Damage.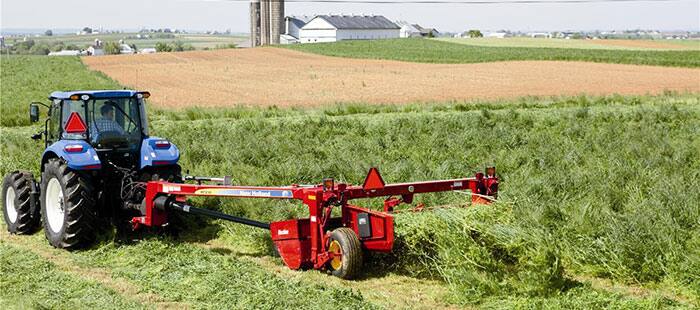 Conditioning Systems For Fast Drying
Whether You're Mowing Alfalfa, Clover, Orchard Grass, Timothy, Bermuda Grass, Bahia, Grass, Fescue, Cereal Rye, Forage Wheat Or Oats, Discbine H7000 Hay Mowers Swiftly Turn Crop Into Fast-drying Windrows Or Swaths. Choose The Gentle Conditioning Of Rubber Chevron-intermeshing Rolls That Save Delicate Leaves, Steel Chevron Rolls For Winter Forage Or Long-stem And Cane Grasses, Or Leaningedge™ Flail Tines For Fast Drying Of Grass Hay.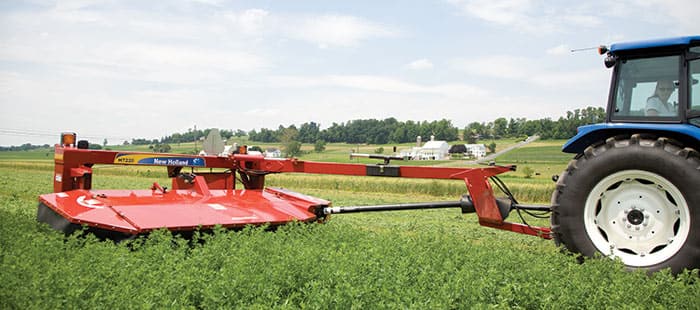 9'2" Cut With H7220 Or H7320
The Smallest Models Of The Discbine Family, The H7220 And H7320, Provide A 9' 2" Cutting Width And Narrow Transport, Which Is Ideal For Mowing Tight Spaces And Passing Through Narrow Entrances. The 540-rpm Drive And Low Horsepower Requirement Mean You Can Mow And Condition Your Crop For Fast Drying With As Little As 65 Pto Horsepower. The H7220 Features A Chevron-design Intermeshing Rubber-roll Conditioning System, While The H7320 Comes With A Leaningedge™ Flail Conditioner. A Straight Tongue With A Clevis Hitch Is Featured On Both Models.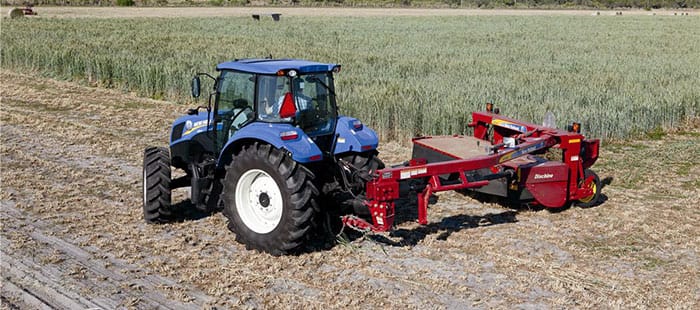 10'4" Cut With H7230 Or H7330
These Two Models Make A 10' 4'' Cut And Require Only 80 Pto Horsepower For Operation. H7230 Mowers Offer The Choice Between A Chevron-style Intermeshing Steel Or Rubber Roll Conditioning System, While The H7330 Hay Disc Mower Is Equipped With The Leaningedge Flail System. A Curved Tongue With A Clevis Hitch Is Featured On Both Models. Looking To Make Sharper Turns? A Two-point Swivel Hitch Or Drawbar Swivel Hitch (Shown) Are Also Available To Provide 90° Turns While Eliminating Tire Scuffing And Making Headland Turns Easier. The Swivel Gearbox Maintains The Pto Angle Straight Through The Turn, Eliminating Constant Velocity Joints And Extending Driveline Life And Reliability.
Models
H7220

Number of discs
7
Cutting Width
9 ft., 2 in.
Conditioning System
Rubber Rolls
Tongue Design
Straight
| | |
| --- | --- |
| | H7320 |
| Number of discs | 7 |
| Cutting Width | 9 ft., 2 in. |
| Conditioning System | Flails |
| Tongue Design | Straight |
H7230
Number of discs
8
Cutting Width
10 ft., 4 in.
Conditioning System
Rubber Rolls
Tongue Design
Bent
| | |
| --- | --- |
| | H7330 |
| Number of discs | 8 |
| Cutting Width | 10 ft., 4 in. |
| Conditioning System | Flails |
| Tongue Design | Bent |