Features
THE EASIER WAY TO SPRAY
With the boom in front, you get unmatched visibility which means you can run the boom closer to the ground to reduce drift.
BEST-IN-CLASS CROP CLEARANCE
With crop clearance up to 78 inches, the Guardian sprayer is among the tallest in the industry. That means you can spray at all stages of crop growth.
HUGE PRODUCTIVITY
With models up to 400 horsepower, tanks as large as 1,600 gallons, and booms as wide as 135 feet, Guardian™ front sprayers allow you to protect more acres per hour.
COMFORT ZONE
The state-of-the-art Guardian™ cab offers roomy comfort, clear visibility and controls, and an array of features to make long days feel shorter.
EFFICIENT HIGH-CLEARANCE SPRAYING. ULTIMATE COMFORT.
New Holland Guardian™ front boom sprayers allow you to spray later into the growing season, easily maneuver at the headlands, and make on-the-go adjustments quickly and easily — all from the comfort of a new cab specifically designed for the Guardian sprayer. Select from models up to 410 horsepower.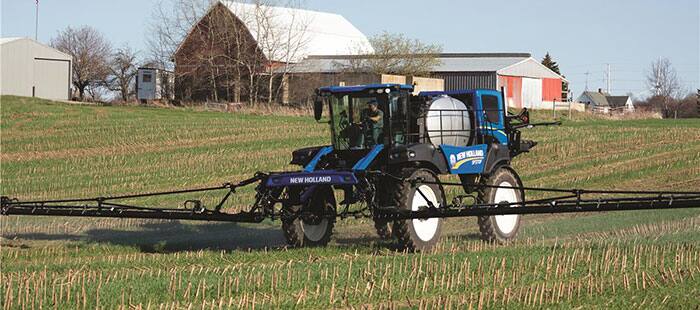 NEVER LOOK BACK
Guardian front boom sprayers are the easiest way to spray. With the boom in front, you get the very best view of the spray nozzles and the field ahead to confidently cover ground faster. There's no need to turn in your seat to monitor spraying action. Spray is delivered into the crop before the tires go over it, eliminating the potential for dust to neutralize the spray.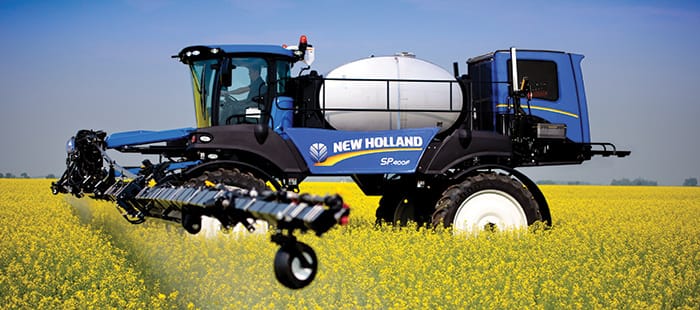 HIGHEST CLEARANCE IN THE INDUSTRY
A redesigned chassis with 78 inches of clearance – the highest in the industry – means you can respond when conditions require and get in the field when you need to, even later in the season when crops are taller.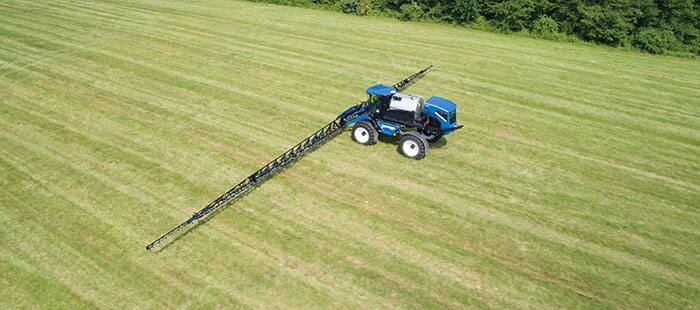 MORE ACRES PER HOUR
Guardian front boom sprayers allow you to cover ground faster to maximize acres sprayed per hour. Not only do Guardian self-propelled sprayers offer the highest horsepower, the largest tank sizes, and the industry's-highest ground clearance, they also offer the smoothest ride and a tight turning radius for more efficient spraying. It's easy to understand how Guardian front boom sprayers help you achieve a new level of spraying freedom and productivity.
IDEAL BALANCE
Even weight distribution provides an ideal balance, with near equal load on each tire to maximize power to the ground while minimizing compaction.
Four-wheel steering with crab-steer function is available as an option to minimize crop damage.
There's only one thing left to do—select the Guardian model with the horsepower, tank and options that are your ideal fit, and never look back.
Models
| | |
| --- | --- |
| | SP.300F |
| Horsepower | 300 |
| Tank Size | 1,200 , 1,400 or 1,600 gallons |
| Boom | 90', 100', 120', 132 or 135' |
| | |
| --- | --- |
| | SP310F |
| Horsepower | 310 |
| Tank Size | 1,000 or 1,200 gallons |
| Boom | 90', 100', 120', 132 or 135' |
| | |
| --- | --- |
| | SP.345F |
| Horsepower | 320 |
| Tank Size | 1,200, 1,400 or 1,600 gallons |
| Boom | 90', 100', 120', 132 or 135' |
| | |
| --- | --- |
| | SP.400F |
| Horsepower | 380 |
| Tank Size | 1,200, 1,400 or 1,600 gallons |
| Boom | 90', 100', 120', 132' or 135' |
| | SP410F |
| Horsepower | 412 |
| Tank Size | 1,200, 1,400 or 1,600 gallons |
| Boom | 90', 100', 120', 132 or 135' |
| | SP370F |
| Horsepower | 369 |
| Tank Size | 1,200, 1,400 or 1,600 gallons |
| Boom | 90', 100', 120', 132 or 135' |