Features
CLEAN POWER
Powerful, 207-cubic-inch, four-cylinder engines are Tier 4A emissions compliant to reduce emissions.
NEW BLUE CAB™ 4
T4F tractors are now available with Level 4 protection from dust, aerosols and vapors.
A HITCH ON FRONT AND BACK
For added versatility, add the available front three-point hitch with available front PTO.
UP TO 93 PTO HP IN NARROW ROWS
The T4F Series continues the legacy of being the most stable, narrow platform for tough applications.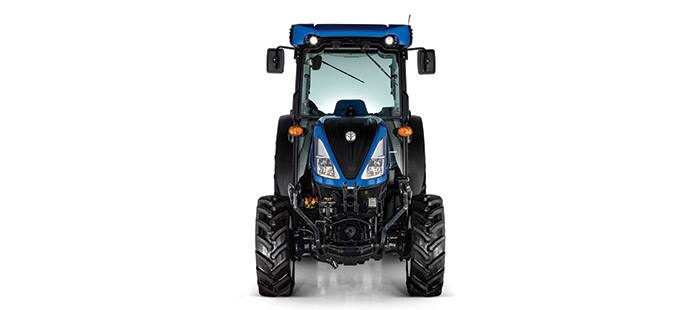 BOLD. POWERFUL. NARROW.
From the world's leading supplier of narrow tractors, New Holland T4F Series narrow tractors combine more power and a bold new style with enhanced operator comfort and safety. All four models feature a sleek design that's ideal for the narrow rows of orchards and nut groves. The standard SuperSteer™ FWD front axle makes these tractors extremely maneuverable. Or choose the economical 2WD front axle if you don't require the added traction FWD provides.
Models
T4.80F
Engine
74 gross engine hp / 65 PTO hp
Minimum overall width
61.7 in (1569 mm) (varies by tire size)
Minimum height
To Cab 96.5 in (2425 mm)
To ROPS 89.6 in (2275 mm)
Operator Station
Cab or Rollbar
T4.90F
Engine
84 gross engine hp / 75 PTO hp
Minimum overall width
61.7 in (1569 mm) (varies by tire size)
Minimum height
To Cab 96.5 in (2425 mm)
To ROPS 89.6 in (2275 mm)
Operator Station
Cab or Rollbar
T4.100F
Engine
98 gross engine hp / 86 PTO hp
Minimum overall width
61.7 in (1569 mm) (varies by tire size)
Minimum height
To Cab 96.5 in (2425 mm)
To ROPS 89.6 in (2275 mm)
Operator Station
Cab or Rollbar
T4.110F
Engine
106 gross engine hp / 93 PTO hp
Minimum overall width
61.7 in (1569 mm) (varies by tire size)
Minimum height
To Cab 96.5 in (2425 mm)
To ROPS 89.6 in (2275 mm)
Operator Station
Cab or Rollbar