Features
Legendary Cut Quality
Full Header Flotation And The Reliable Haybine® Cutterbar Design Assures Close, Even Cutting Every Time.
Proven Conditioning
New Holland's Plug-free Roll-pressure System Delivers Smooth, Thorough Conditioning Action.
Simple Adjustments
Crop And Field Conditions Change, And New Holland Makes It Easy To Adjust The Cutting And Conditioning Action Of Your Haybine Mower-conditioner To Match Your Needs.
Reliablility Year After Year
High-volume Haymakers And Small Family Farms Alike Depend On Haybine Performance Season After Season.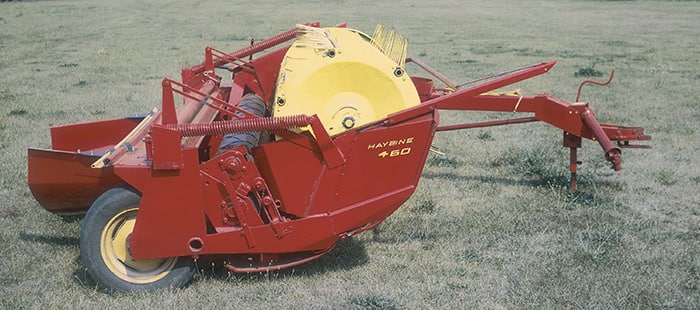 The Industries First And Still The Best
Since 1964 When New Holland Introduced The First Combined Sickle Mower And Conditioner, The Haybine® Name Has Been Synonymous With Time-saving, Impeccable Cutting Performance, Fast Drying, And Time-tested Reliability. New Holland Continues This Legacy With Haybine Model 472 And 488 Side-pull Mower-conditioners And H7150 Center-pivot, Trail Frame For Hs Series 14-, 16-, And 18-foot Mower-conditioner Heads.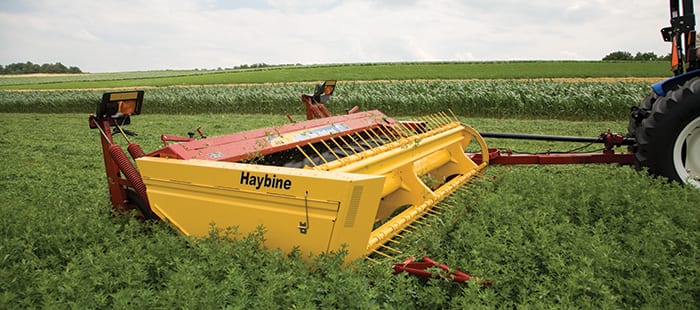 472 And 488 Model Haybine® Mower-conditioners
These Side-pull Models Offer Traditional Producers Just Right Capacity With A Low Power Requirement And Base Models Require No Hydraulic Connections Ideally Suited For Classic Tractors, Many Of Today's Compact Models, As Well As Small Utility Tractor Models.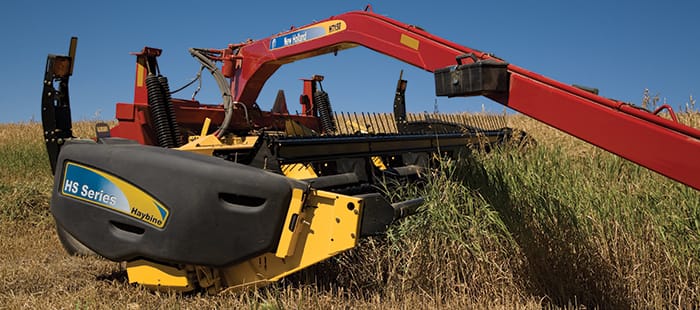 H7150 Haybine® Mower-conditioner Trail Frame For Hs Series Heads
If You're Looking For Consistent, High Cutting Quality Combined With High Capacity, Look No Further Than The H7150 Haybine Mower-conditioner Trail Frame Paired With An Hs Series Sickle Mower-conditioner Head, Available In Cutting Widths Of 14, 16, Or 18 Feet. The Center-pivot Design Combined With Dual, Counter-stroking Sickles And Wide Cutting Widths Makes Short Work Of Large Acreages.
Models
Haybine® 472
Cutting Width
7 ft., 3 in.
Conditioning Roll Length

9 ft., 2 in.

85 in.
Min. Tractor Requirement
30 hp
Haybine® 488
Cutting Width
9 ft., 3 in.
Conditioning Roll Length

9 ft., 2 in.

102 in.
Min. Tractor Requirement
35 hp
H7150 Trail Frame and HS14 Haybine® Head
Cutting Width
14 ft. 3 in.
Conditioning Roll Length
102 in.
Min. Tractor Requirement
70 hp
H7150 Trail Frame and HS16 Haybine® Head
Cutting Width
16 ft. 3 in.
Conditioning Roll Length
102 in.
Min. Tractor Requirement
70 hp
H7150 Trail Frame and HS18 Haybine® Head
Cutting Width
18 ft. 3 in.
Conditioning Roll Length
102 in.
Min. Tractor Requirement
70 hp